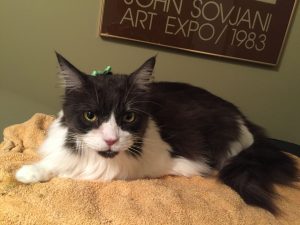 Used this service for the 1st time. She is a true professional. I will recommend her to all my friends that have a cat. Great job!!!
Paul P., Inverness, Sweet Pea, 6/7/2016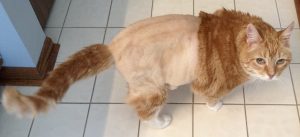 Sheryl did a fabulous job. She made my Cagney look beautiful with a lion cut. My vet advised sedation and I didn't want to do that to my cat. I loved that Sheryl had nice soothing music playing while grooming and that I was able to stay with my kitty, it helped. She definitely has a special connection with felines of all attitudes…I can't stop petting Cagney. I highly recommend Sheryl, you won't go disappointed!!
Sharon P., Schaumburg (Note: Cagney has a mature lion clip)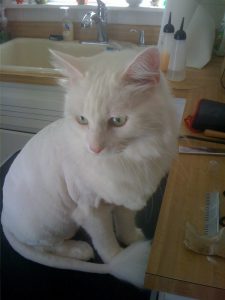 ✭✭✭✭✭Great! Sheryl has such a great idea by coming into your cats home.
I was specifically looking for a mobile cat groomer since my cat doesn't like to
travel and be in a cat carrier. She really took her time. My cat was difficult at
times and she was totally patient with him. SherylSherylry knowledgeable about
cats, the breeds, behavior, and grooming. My cat looks and smells great. There
is a difference between a groomer and a professional groomer and Sheryl is it.
I can't believe the difference between her groom and the last time my cat got
groomed. I didn't know a cat could look so good. I highly recommend Sheryl for
all your grooming needs.
Angela K., Fatty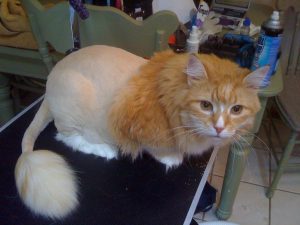 I simply wanted to Thank you again for the meticulous grooming of Mufasa. He looks so beautiful!
Jill H., Bartlett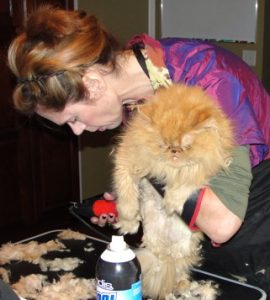 Baby Red is still walking around here as if he is the King of the Forest!! Too bad we all know better!! You did a great job with him and we will call again when it's time for another hair cut! Our black cat, Boo will need one too at some point. She is a bit more "high maintenance" but not too much for a pro like you.
Heidi, Winfield
Thank you for taking care of Sabrina. I think Sabrina was rather a difficult client for you, but she was scrubbed, cleaned, and freshened up so well with your great professionalism. She now looks so great and soft!!!
I have to tell you this, and I am not kidding – Sasha (8 yrs old), who hissed and screamed at Sabrina whenever Sabrina walks closer to her, has stopped hissing & screaming since Sunday night!!! They seem to be more controlled and behaving each other!!! They can get closer each other without hissing and growling!!!
I am now wondering that all through since I adopted Sabrina, Sasha has been saying "Don't get near me, Sabrina! You stink!"
Thank you again. I wish your business flourishes!!! Teiko, Bloomingdale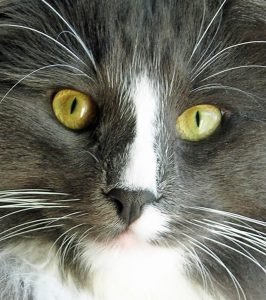 ✭✭✭✭✭If you have cats that need to be groomed, clipped, trimmed and/or made to have fluffy, fresh-smelling coats, Wet Whisker is the only place you should consider. Most other groomers in the area specialize in dogs with a cat service on the side. Wet Whisker only specializes in cats and they know what they're doing.
The last time I had the cats groomed, I went to PetCo, where the cats were clearly traumatized for more than 10 minutes by a dozen or so large dogs barking and growling at them while they were waiting to be groomed. I vowed never to return to PetCo for grooming after that experience.
This time, we had Wet Whisker come out to our house last week to bathe and groom both of our cats (one a long hair and the other a short). All I can say is, Wet Whisker knows cats! Our groomer came out and immediately bonded with our two cats, giving them little treats and petting them to gain their trust. She also began telling us several interesting facts about our particular cats' breeds that we weren't aware of. The groomer also patiently took her time to get the job done professionally and completely. At one point, one of the cats became scared of the hair dryer and tried to make a run for it. The groomer knew exactly what to do in order to get her back on the table and calmed back down so she could finish the job.
We will definitely be calling Wet Whisker again the next time they need to be groomed. It takes the hassle out of grooming them and it keeps the cats' panic levels to a minimum…especially since it's done in your own home by someone who is a devoted fan of cats and a specialist in what she does.
Adam C. posted a very nice 5 Star review on Yelp!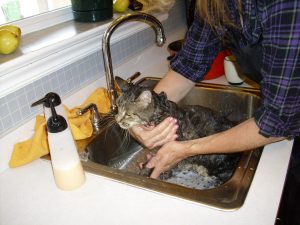 Sheryl is WONDERFUL. What patience! What wonderful personality with
a "difficult" feline named Roxanne. She also was wonderful with a "nervous"
owner. Love you, Sheryl!
And later:
"Sheryl, you so spoiled Roxanne….she wants to be "combed" many times
a day….and she lays there purring her heart out! I think it will be "we" can't
wait to see you in October."
Ruth M.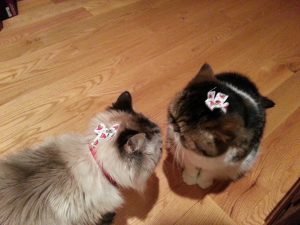 I just wanted to let you know how beautiful my cats still are. I know they feel so much better. I have already told two people about you and will continue to pass the word along. You are amazing and truly have a gift with cats. I just wanted to let you know how happy I am with what you did for my cats. We will see you again soon.
Regards,
Brooke (and Morsel, Mr. Puss, Snowball, and Cha-Cha), and maybe Moonshadow next time!
Brooke M., Carol Stream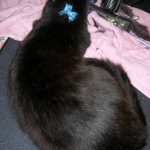 Fuzzy seems to be VERY happy with her "new look". She has been quite energetic lately and likes to prance around, with her tail up in the air.
Marci S.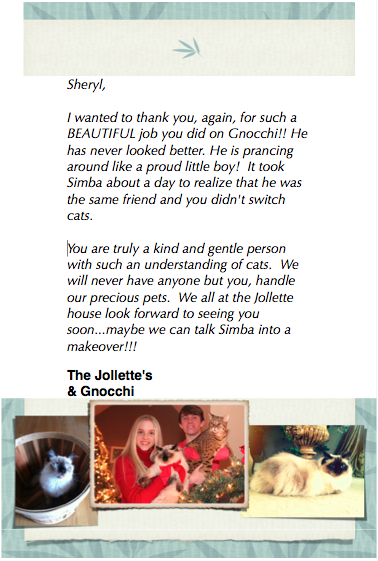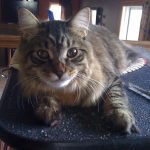 "
Thanks again for coming out to meet Noah. He seems so happy and is still walking around like he is a million bucks showing off his new look =)
~Erica
"
"Hi Sheryl,
I wanted to thank you again for the wonderful groom you did on Angel. She's acting very happy now that she's lost all that matted-up fur (her back, where the pelting was, looks good and has "healed- up" already). I've attached a pic of her from yesterday, enjoying her birthday present (she turned 12 yesterday). Thank you again for your good work and patience!"
"~Scott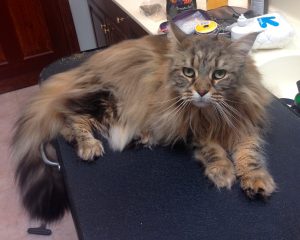 "
Trying to figure out how to place the movie of me bathing Maggie. It's currently on my Wet Whisker facebook site.
From Maggie's guardian: "I have been– possibly over focused on her and the fact that she is grieving (her buddy recently died). To see her today, with you, enjoying herself gave me relief too. I can't fully explain it, but — by you helping her to heal and feel better also takes some of my pain away. Thanks for lightening a heavy burden.
You have a special gift, and thanks for sharing.
About the movie:
"I showed him (the vet) this video of you bathing her. We talked about you and your skill with grooming cats. We agreed that you have a gift."
"
Carole B., West Chicago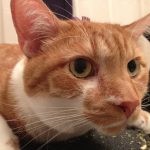 "Sheryl has been grooming my little buddy Frankie for about 1 year.
She is AMAZING!!! She cares so passionately about the cats and their well being. I cannot recommend her enough.
Her standards are so high and it is reflected in the attention she gives my cat when I watch her groom him. Her standards are incredibly high. Your cat will get the very best care available.
I hope she will be grooming Frankie for many years to come. She focuses exclusively on cats as they are her passion.
She is truly the "cat whisperer." Contented client. Curt T."
Curt T., Addison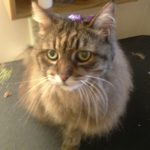 "I neglected to get around to letting you know how great a job I thought you did shaving out all the hair mats on my cat, JC, as well as the nail trimming, bath and shampoo you gave her a week or so ago. Your technique and manner with her taught me a lot about how to handle her. Now that she's all soft and fluffy, I have even softened up and put her on my lap. You're just plain good. Thanx."
Jim P., Downers Grove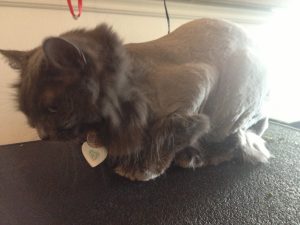 5 Stars
Sheryl is absolutely FANTASTIC! She did an amazing job on my long haired cat who has a lot of attitude. I had her apply nail caps, give her a lion cut, & bath.
She handled her very well. I was very pleased to see that she was gentle and treated her as if it were her own pet. She was extremely knowledgeable about cats in general, not just the grooming aspect of things. She told me about what types are foods are good and bad for cats & even wrote down a list of what to look for in the ingredients as well as several brands that she recommends.

You can tell she takes time and really cares about what she does. My cat looks fantastic and she seems very happy with her new hairstyle. I had her do a "lion cut" the cat is shaved down leaving only "boots", the face & neck, and a poof at the end of the tail. Sheryl also applied nail caps to my cat which was great because I tried myself and had a very difficult time. She really knows how to handle the cat, talking to her in a nice calm tone, holding her gently, which really changes the entire attitude of the cat & keeps her as calm as possible through the process. She finished up by making an adorable bow for her collar and vacuuming up all the hair which was very nice!

I've had my cat groomed by other "cat groomers" and I will never use anyone else after my experience with Wet Whisker.
~Julia P.
http://www.yelp.com/biz/wet-whisker-ltd-bloomingdale-2