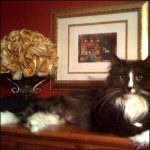 ABOUT WET WHISKER
>^^<
630-306-5889 sheryl@wetwhisker.com
Covid-19 Update: As IL is under a shelter-in-place order and grooming services are deemed non-essential, Wet Whisker will be closed through April 7, 2020. Stay healthy & safe, until we meet again!
Welcome! I'm a feline exclusive groomer (no dogs) whose holistic, force-free approach is based on a love for cats, cat behavior, and cat psychology. 2020 marks 11 wonderful years of business, doing what I love.
Wet Whisker is an in home, aka house call, mobile grooming service. Your cat is fully groomed INSIDE its own home (your home). This is beneficial as stress, to which cats are especially prone, is minimized. Owners also benefit from peace of mind as they're welcome to be present while kitty is being groomed, if they like. WW services towns around Bloomingdale, Illinois. (See Service Area page for list)
The holistic philosophy of Wet Whisker is simple; always treat cats with respect, compassion, patience, & affection. They deserve no less! I love cats, have several of my own, and am an advocate for their welfare.
I do not sedate, nor do I recommend sedation without an assessment by me. No force grooming methods are used as these are counter productive and do not foster trust or affection. These include scruffing, muzzles, immobilization, neck nooses, helmet muzzles, tethering racks, dunking bags, paw & leg taping, or other such used by those who do not understand cats and/or do not want to work with them. Cats should be treated as kindred souls and respond best to gentle and patient methods. Peer reviewed research supports this approach.
About the owner, Sheryl: I have taught cat grooming locally & nationally and am co-founder of the Holistic Cat Groomers Alliance (since 2014), which is a professional organization for the education & training of cat groomers in respectful & compassionate methods, which is lacking in the majority of grooming schools. I have been a featured speaker at all seminars given by Stacey Ward's "The Cat Grooming Symposium". After graduating from the Academy of Dog & Cat Grooming Arts in Arlington Heights, IL in 2009, I returned to lecture & demonstrate holistic cat grooming techniques. Cats have been a life long passion of mine & I'm so glad to be pursing my passion in my 2nd career. I have several of my own cats, foster cats occasionally, & have a purebred daughter. 🙂 In August of 2016, I was elected to the board of directors for the Illinois Professional Pet Groomers Association and hold the office of Secretary. In August of 2019, I was elected as Co-President of the IPPGA.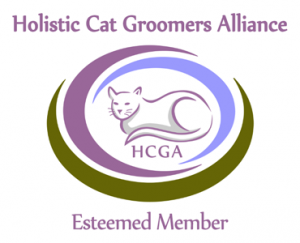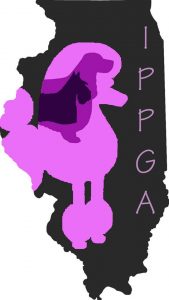 IPPGA logo